CLASS 46

Now in its twelfth year, Class 46 is dedicated to European trade mark law and practice. This weblog is written by a team of enthusiasts who want to spread the word and share their thoughts with others.
Who we all are...
THURSDAY, 14 MAY 2020
Book review: Life Sciences and Intellectual Property: Law and Practice
Charlotte Duly of the MARQUES Education Team reviews the book "Life Sciences and Intellectual Property: Law and Practice", by Bird & Bird LLP (edited by Patrick Kelleher), published by Sweet & Maxwell, priced at £225 and available to order here.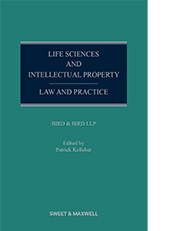 This book was published in December 2019 and focuses on the position in the UK with relevant international treaties discussed. Covering a vast subject area in terms of both science and law, the content is succinctly distilled yet comprehensive providing a huge amount of material in an accessible and well-sized text for a legal tome.
Life sciences is an industry with IP at its core, and this book is timely in light of the COVID-19 pandemic and the issues faced in devising and delivering market-ready tests, vaccinations and cures for the virus. The impact of regulatory issues for medicines is well explored.
Not just a legal text
This book genuinely makes for an interesting read, with a fascinating overview of the life sciences industry and discussions on the importance of IP. The preface claims the book aims to be "a useful initial reference source for a practitioner on the life sciences field" and it certainly achieves this.
All IP covered
Despite life sciences being an area most readily associated with patents, other IP is covered in detail. This makes it a useful addition to the library of any trade mark practitioner who delves into the world of pharmaceutical trade marks, whilst giving enough background to be easily picked up by someone who does not practice IP on a day-to-day basis.
Copyright, designs, and database right are also covered along with confidential information and trade secrets, all of which play a significant role that is often undervalued in the life sciences field where patents may receive more of the attention.
This text, of course, takes a detailed look at patents, providing insight and discussion into obtaining a patent, validity (including exploration of novelty and inventive step) and infringement issues from the view of industry-specific challenges.
The book explores how different strands of law come together in this complex field, where the protection of IP is intended to encourage research and reward, whilst regulatory framework has the purpose of protection of the public principally in terms of health, all the while with fostering effective competition law. Generic products and their entry to market is one such area that is explained in detail, along with abuse of a dominant position and "pay for delay" agreements.
Trade marks
The pharmaceutical field has its own challenges to trade mark selection and protection. This book contains a detailed section on pharmaceutical trade marks, covering such issues as:
Validity and infringement, including relative and absolute grounds of objection
Trade mark protection for packaging
Protection for the appearance of drug capsules
Level of attention of the average consumer of pharmaceuticals
Counterfeits
Parallel trade and exhaustion
This book goes beyond the protection and enforcement of patents and trade marks to look at relevant issues such as the misuse of IP rights in the pharmaceutical sector to raise prices, including examples of eye-watering fines.
A fascinating companion
The book ends with a discussion of the future of life sciences and emerging technologies, including artificial intelligence, personalised medicine and stem cells.
A truly interesting and comprehensive review of IP and the life sciences field, it is worth a read for anyone with an interest in either field.
I was going to finish this review with a joke about sodium, but Na.
Charlotte Duly is Head of Brand Protection at Charles Russell Speechlys LLP and a member of the MARQUES Education Team. Look out for more book reviews from the Team in future blog posts
Posted by: Blog Administrator @ 09.47
Tags:
life sciences
,
sweet & maxwell
,
pharmaceutical
,
Perm-A-Link:
https://www.marques.org/blogs/class46?XID=BHA4867
Reader Comments: 0
Post a Comment
MARQUES does not guarantee the accuracy of the information in this blog. The views are those of the individual contributors and do not necessarily reflect those of MARQUES. Seek professional advice before action on any information included here.
The Class 46 Archive